Embroidery Contact / Quote
Let us know what you need...
Embroidery Estimate
For an estimate on your Embroidery project, please fill in the form below with as much detail as possible and we provide you with an estimate on your project. Have a difficult order? This form will take care of almost all estimate requests, but not all. Call us to discuss it if it is a little more complex.
Windsor Forge Embroidery aims for complete customer satisfaction. We would love any feedback, positive or negative, as we may strive to be the best for our clients. Please feel free to contact us at anytime at the e-mail addresses we have listed. We would like to thank you for your continued patronage. Please visit us again soon.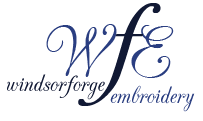 Custom, Corporate and Promotional Embroidery
Orders and Inquires:
Sarah Doheny at 484-855-1089
sarah@windsorforgeembroidery.com
For Quotes:
John Soden
john@windsorforgeembroidery.com